The Influence of the Chief Tecumseh Poem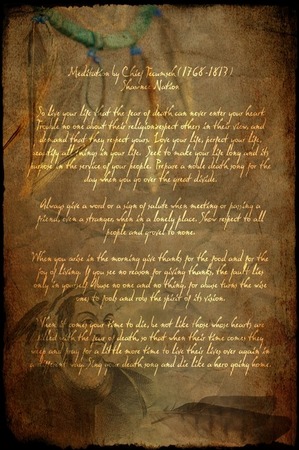 You may recall sometime back we had posted about the Chief Tecumseh poem that we had become aware of from the Act of Valor movie.  Well we just recently received a note from an active duty soldier that I had to share with you.
Hello Sir,
So you are the only place I have been able to find the poem for sale by Chief Tecumseh.  See I am a US soldier, this is my 5th tour of combat and I am currently in Afghanistan.  I had heard and used this poem long before the movie Act of Valor but my younger guys really took a liking to it kinda like a wild fire in there soul.  And well with the line of work we do it's something to live by.  You have a beautiful product and well of course ya can't give it away but i didn't know if maybe you could send out a few maybe as I am trying to get different things before Christmas to do a lil present shuffle for my guys.  Just trying to get donations and well even if not i have 24 guys and well if there was any way you could give me a bulk discount maybe or something.  See I really plan on having a flag flown here over our head quarters for 9 days 11 hours and then pulled down folded up and framed and really wanted to frame a copy of this poem with it.  This is something a soldier will hold as more of a prize than a medal or award as it's from one brother to another and well asking you if there is anything you might could do to help me make this happen.

Thanks so much.
Needless to say, we were deeply moved by this quest and we decided to donate to this cause immediately.   The reason why I wanted to share this with you is to give you a glimpse of the things that are important to our brave men and women in uniform.
If you have any family or friends that are in the Military and you think this would be meaning to them we are currently able to offer a 35% discount At The Gallery when you use the coupon code Turkey35 at checkout.   We truly are grateful for all who have served.
We wish you peace and many blessings during this Christmas Season.