Purchase Prints – Tecumseh Poem – Act of Valor Movie
After the movie "Act of Valor" came out, a friend of mine talked to me about how powerful the Chief Tecumseh poem was at the end of the movie. After that discussion I went out and found the poem and posted in a previous post
. The response for that post has been one of the most overwhelming responses of any article I have published since starting blogging in 2003. The combination of this movie and this poem strikes people very deeply and they are willing to express their thoughts on the movie to the world. I encourage you to go
read the comments
. Some are so powerful they may move you to tears.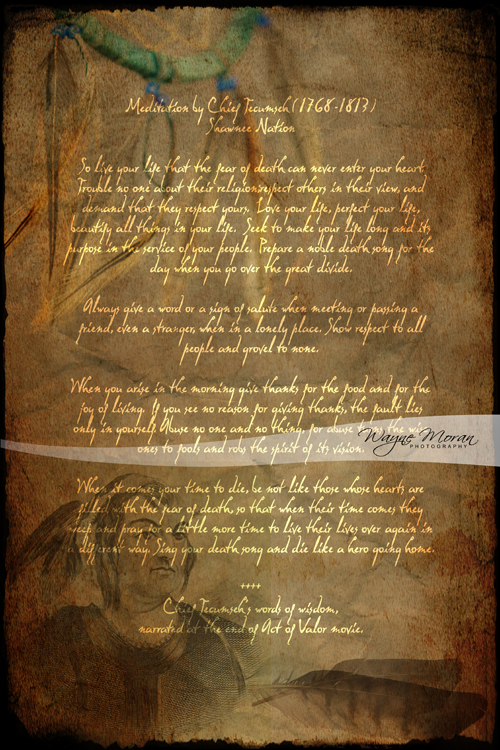 Purchase Prints

Note: Watermark Wayne Moran Photography is not on final print.
Many of the visitors have been asking me if they can buy a print or some kind of wall hanging of the poem to hang on their walls in their home or office. So after many requests I contracted with the design team at OxRun LLC to come up with something that is beautiful and respectful of Chief Tecumseh, the poem and the movie. I would like to present to you the result of that process. We hope this is exactly what you are looking for.
If you would like some different design or option, please let us know.
You can buy prints, framed prints and canvases at this Online Store. Thank you for all your great feedback.
Let us know if we can be of any other assistance to you.
Thank you
Wayne Moran